A mailbox migration tool like no other
The MailJerry email migration tool promise:
Always be a 100% in control of your email migration
Always know and control what's happening with your data
Enjoy a vast range of handy features
Save time thanks to the MailJerry automation algorithms
Connecting with the Mailbox Migration Tool
Connect your mailboxes in seconds with the MailJerry mailbox migration tool!
With the MailJerry mailbox migration tool, establishing a connection between your old and new mailserver is a matter of seconds: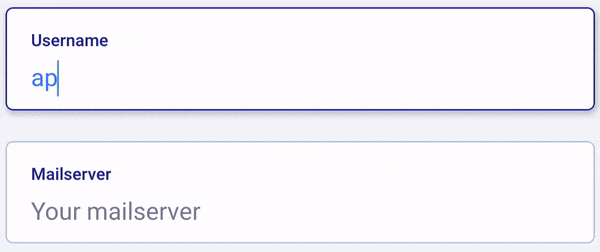 Don't know your mailserver? The MailJerry mailbox migration tool automatically suggests the name of your mailserver.
Advanced Mailbox Settings:
Advanced Mailbox Settings
Connect with every server: The MailJerry mailbox migration tool provides advanced settings to choose from, like port or SSL encryption type.
Unlike other mailbox migration tools, MailJerry performs a health check before the email migration.
Mailbox Trouble Shooting:
We implemented extensive troubleshooting mechanisms to help you connect your mailboxes with the email migration tool effortlessly.
Email Migrations Tool: Preview
Fully automated:
Let the mailbox migration tool do your work
The email migration tool migrates your data completely on its own.
Never Lose a Single Email
Folders, labels, drafts, send messages… MailJerry migrates all your data. Lean back and rest assured that all your email data is reliably migrated and not a single message forgotten or deleted by the email migration tool.
No Duplicates – No Data Chaos
Our mailbox migration tool automatically detects duplicates and prevents data chaos through elaborated data management algorithms.
Plan your Email Migration
The MailJerry email migration tool calculates the estimated time required to migrate your emails. Therefore, you can plan your email migration and know how long your email migration will take.
Comprehensive Status Info
Always know what's happening: Precise status information helps you to keep track of your email migration. A feature that is especially convenient when migrating multiple mailboxes at once.
In case the connection to one of your email servers is interrupted, the MailJerry email migration tool automatically establishes a new connection and resumes your email migration.
After starting your migration, you can simply shut down the mailbox migration tool and check back later. All tasks are handled by the cloud migration tool and there is no need to wait until your migration is done!
After the email migration:
Handy features of the email migration tool
When the initial mail migration is done, the MailJerry email migration tool provides many convenient features.
Keep track of what happened after the migration, sync your mailboxes manually or activate the auto sync in case new data is still received in your old account.
The MailJerry mailbox migration tool shows a comprehensive overview of all your migrations. See at one glance which migration is finished, still running or when a problem occurred.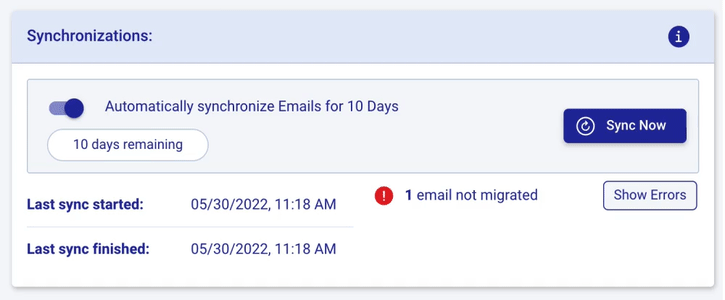 Sync your mailboxes after the email migration. The mailbox migration tool allows you to sync your data from your old account to your new account at any time by just hitting the sync button!
Enable the auto-sync in the email migration tool and lean back: All data received in your original account will automatically be migrated to your new mailbox.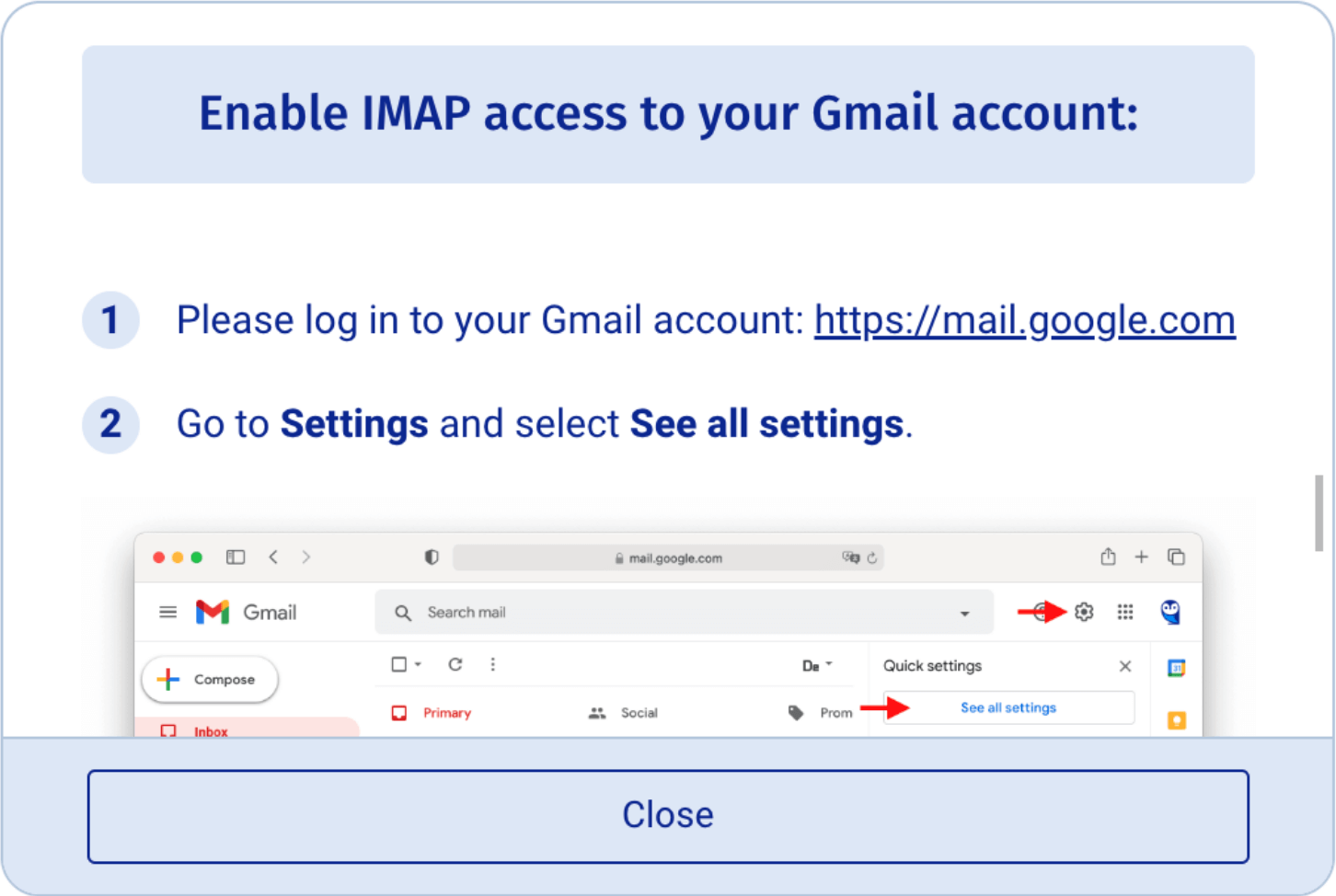 Unlike many other email migration tools, MailJerry does not only inform you in case some data could not be migrated, but also provides you with detail information on how to resolve the problem.
Security, Privacy and GDPR Compliancy: The foundation for our mailbox migration tool.
We are fully aware that migrating email data is a sensitive task.
That's why we took considerable time to integrate extensive security features, encryption algorithms and privacy technologie into the MailJerry email migration tool.
100 % Secure and Completely Private
During the email migration, your data remains secure and 100% private.
The mailbox migration tool cannot read the content of your emails. Therefore, your privacy is guaranteed at all times!
Fast, Secure and Reliable Data Encryption
Before the migration, your email data is encrypted via modern encryption algorithms.
This ensures that your data cannot be intercepted during the migration and a high measure of security is guaranteed.imes!
No Messages Stored – No Emails Deleted
The MailJerry mailbox migration tool does not store any of your emails. Since all messages remain in the original account, there is no possibility to lose or accidentally delete your data.
GDPR Compliant
Our email migration tool complies with the GDPR
and is regularly vetted and adjusted when new privacy regulations come into effect. Therefore, you can safely migrate your own or your customers emails without having to worry about privacy concerns.
All Features:
Overview of the mailbox migration tool.
The MailJerry email migration tool offers a wide range of convenient features and tools to facilitate your email migration.
Hard Facts
Unlimited
simultaneous
migrations
*
Unlimited mailbox size and data volume *
View your migrations on any device
Cloud email migration – runs in the background
Money Back Guarantee
Compatibility
Gmail / G Suite / Google Workspace
Outlook / Office 365
Yahoo!
GMX
iCloud
All IMAP Accounts
All Exchange Accounts
All major email providers
Security & Privacy
100% secure
Email data remains completely private
Modern encryption algorithms for a high security level
No email data is stored
No email data is deleted
GDPR compliant
Connecting Mailboxes
Presets for large providers
Mailserver suggestions
Mailbox health check
Advanced mailbox settings
Server error detection
Server trouble shooting
During the Migration
Migrates all email data
Migrates folders, labels, drafts, sent objects…
No data loss – no data is deleted
No duplicates
No data chaos
Estimated migration duration
Comprehensive status report
Auto reconnect on connection loss
After the Migration
Email migration summary
Convenient error handling
Error logs
* Not available in the free version.
Wish to try our email migration tool?
Download the MailJerry mailbox migration tool or start your free email migration directly in the browser!